---
Home
For dance practice, lessons, parties, workshops, and many more studio rental options, make your booking here! Contact 3162-0037 for more details.
Follow us on Facebook for 2017's latest events, upcoming classes, and best dancewear offers! Remember to @danzstage!
DanzStage Hong Kong proudly presents the 3rd Fashion Show Dinner Dance Party on the 1st of April 2017 at Starlight Dance Club Hong Kong, Wanchai.
We would be delighted to have you with us on this very special evening of dancing and viewing Lu Lu's latest collection of Ballroom dresses.
Tickets: HK$1000, VIP $1500
RSVP: Christina Chong, 852-31620037.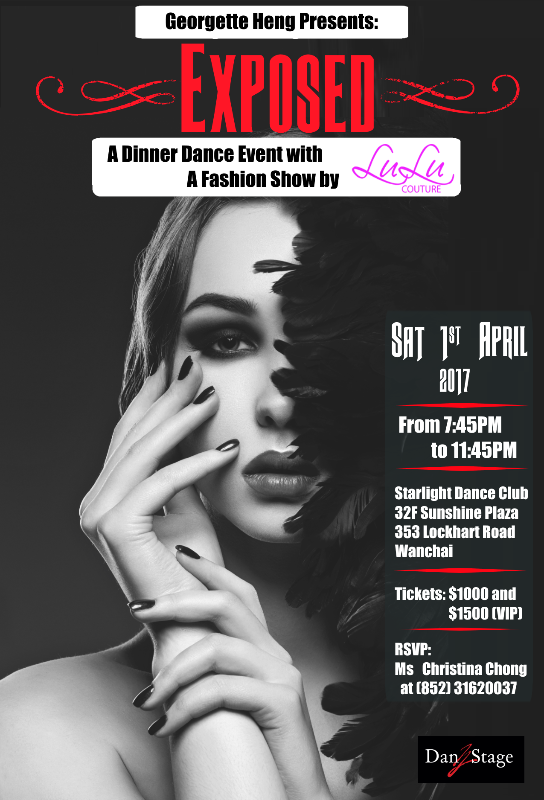 WANT TO DANCE...
BALLROOM, LATIN, ARGENTINE TANGO, SWING or SALSA! COME TO DANZSTAGE AND JOIN US FOR SOME SERIOUS FUN!

DanzStage is one of Hong Kong's newest dance studio, specializing in the art of partner dancing. Whether you are looking to learn the classy ballroom, flirtatious latin, sultry salsa, crazy swing or the passionate Argentine tango we've got some of the best instructors around town whose guidance can change your life.

We are committed to bringing students high quality instructions for whatever goals you may have.

Adults and Children, Couples and Singles.
NO EXPERIENCE OR PARTNER NECESSARY!
ALL ARE WELCOME!
Previous workshops and events: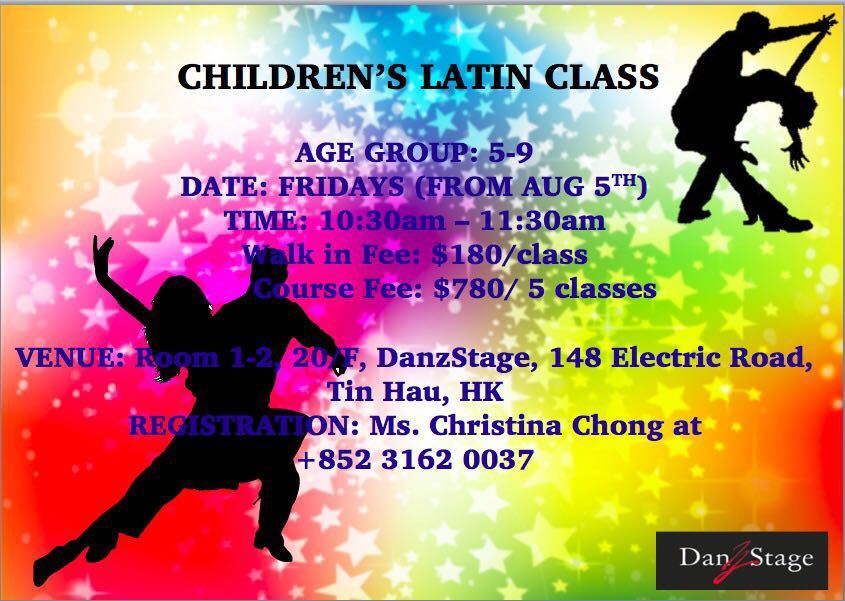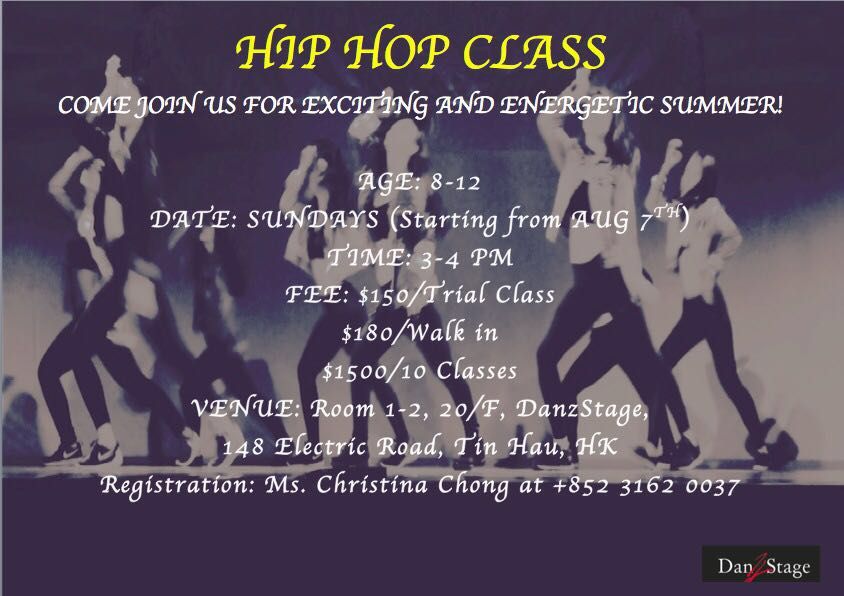 自然及健康的方法有效擊退水腫
好玩又刺激
強化四肢的力量
當倒掛時脊椎得以完全伸展,透過扭動、拉扯姿勢伸展全身,
可有效收減腹、下身、手臂及大腿部位
$1000 FOR 5 LESSONS
$1800 FOR 10 LESSONS
TRIAL LESSON: $200
SINGLE LESSON $250
STUDENT SPECIAL OFFER 15% DISCOUNT
Please note that lesson can be taken on Wednesday or Friday according to preference with one month expiry for the 5 lessons package and two months expiry for the 10 lessons package.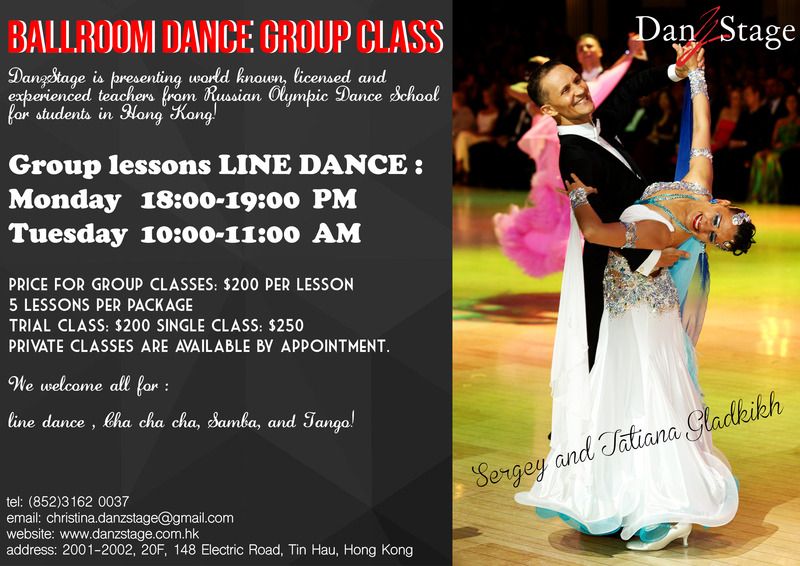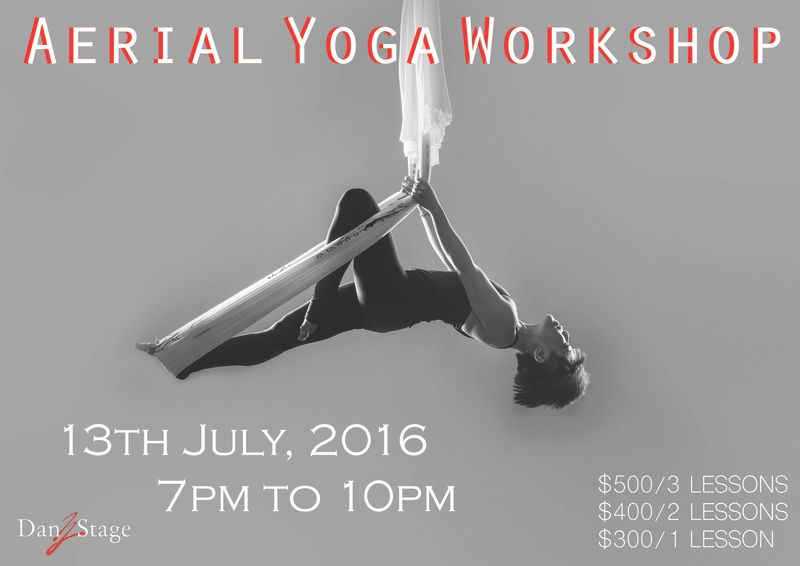 Please see following list of talk:
Feb 20- Apr 16 
12:30-1:15 Dance 
1:15-2 Parent talk ( see topics below)
Feb 20
How to develop Brain Power in Learning
如何提升大腦學習潛能
Feb 27 家居小童燙傷及因食物窒息處理法
Young children burnt and choking first aid skill
Mar 5 
學童體重管理與飲食營養 
Right supplements, children obesity and food labels
Mar 12 媽媽減壓及舒緩痛症 
Stress release and pain management
Mar 19 怎樣保持骨骼健康
Bone health
March 26 家居安全及小童骨折處理法
Home safety and bone fracture first aid
Apr 2 
怎樣有效培養兒童閲讀興趣
Effective story telling skills
Apr 9 V 面V 身通穴位
V face and V body lymph node clearance
Apr 16 失眠及提升免疫力
Insomnia and immune system
Apr 23 
兒童食物過敏及營養補充
Food allergy and supplements

Please note that the studio reserves the right to change topics of the parent talk according to the needs of the parents.
**WHAT'S NEW! (Updated 4th Oct, 2015)
Brand New Fall/Winter Collection 2015 by Lulu Couture
For SALE!!! Please contact us if interested!! Click here
Product Detail: DS01
Description: Black Skirt with Silver Godests & Green Trim
***Here comes to the Festival Promotions 2015! Exclusive discounts for dance studio rental on the following special periods, for ONLY HKD4,800!
Halloween: 29/10 & 30/10 
Christmas: 24/12, 25/12, 27/12
New Year: 1/1/2016
Time: 7pm to 12am
Charges: HKD4,800 (5hrs)
Additional charges for special decorations arrangements (if any) .
For anyone who want a place for your family, friends, classmates for a special Party! You can decorate your own party or ask us to arrange!
For more details or make a registration, please contact 3162 0037 Christina.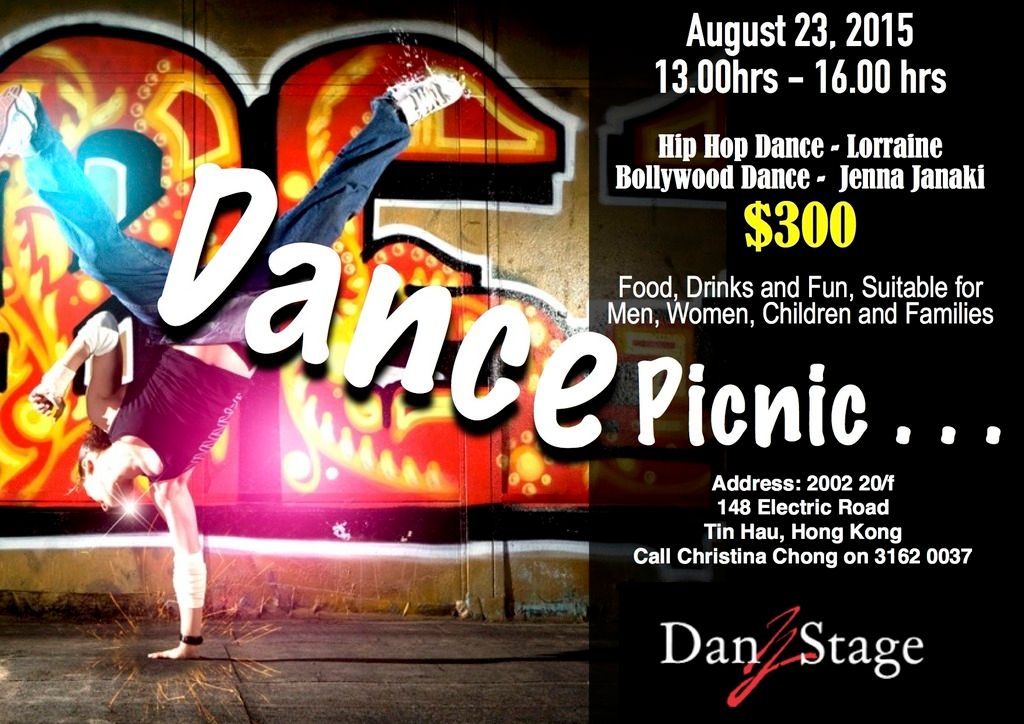 Danzstage's flash mob team rocking in Macau! Thanks for all the dancers and our choreographer Lorraine Lai! You guys did a super great job! Thank you so much!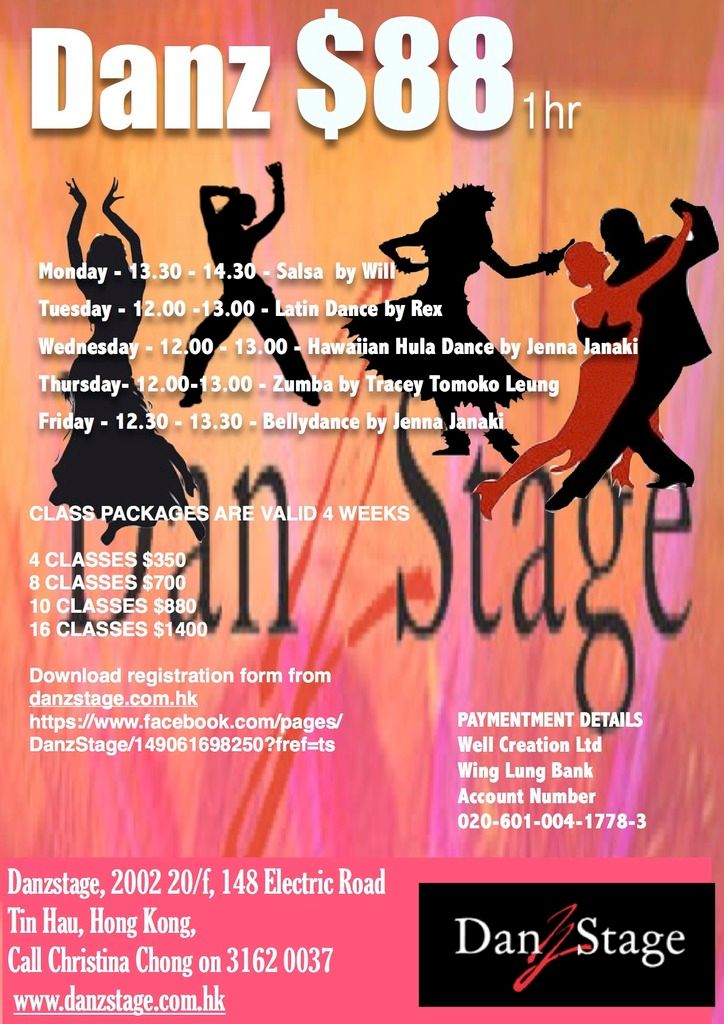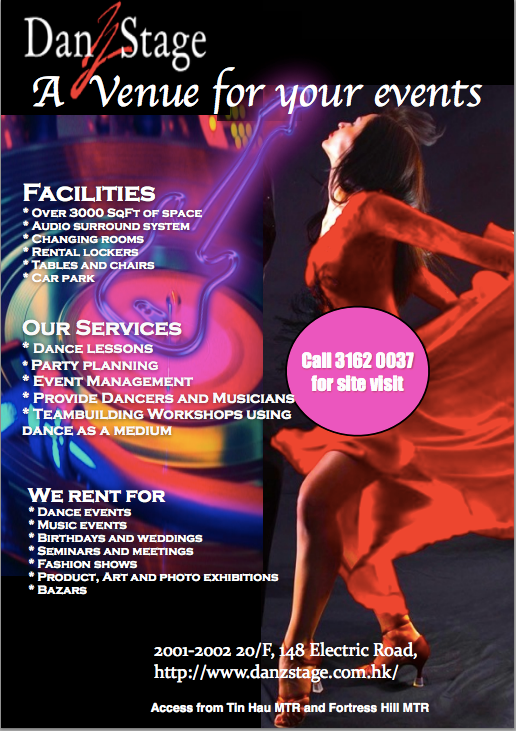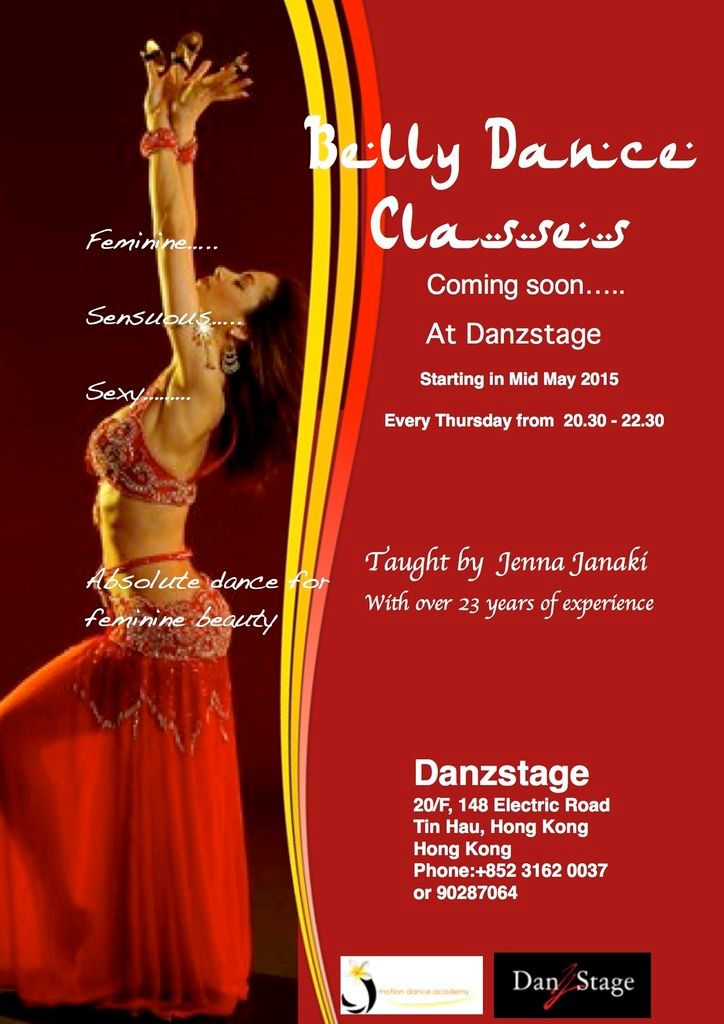 New Beginners Latin Class on every Friday 19:30 to 20:30 starting from April 2015 featuring one of the Ukraine Champions - Elena !
If you have decided to learn Latin dance and learn it well, don't miss the class!
Begginers Ballroom Group Lessons:
Beginners Ballroom Tango Class: Every Saturday starting from 21st Mar,2015 (18:15 to 19:15)
Fee: $900 per person for 5 classes
Extra $250 per person for any single lesson
*********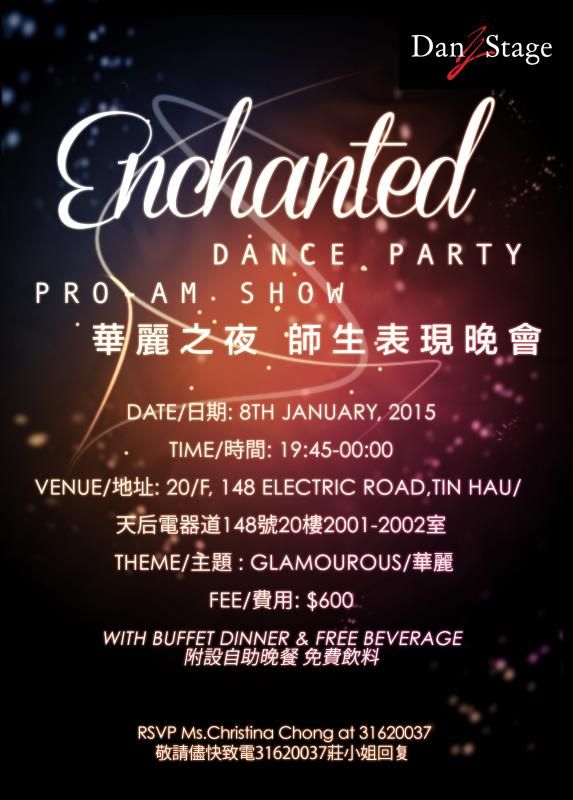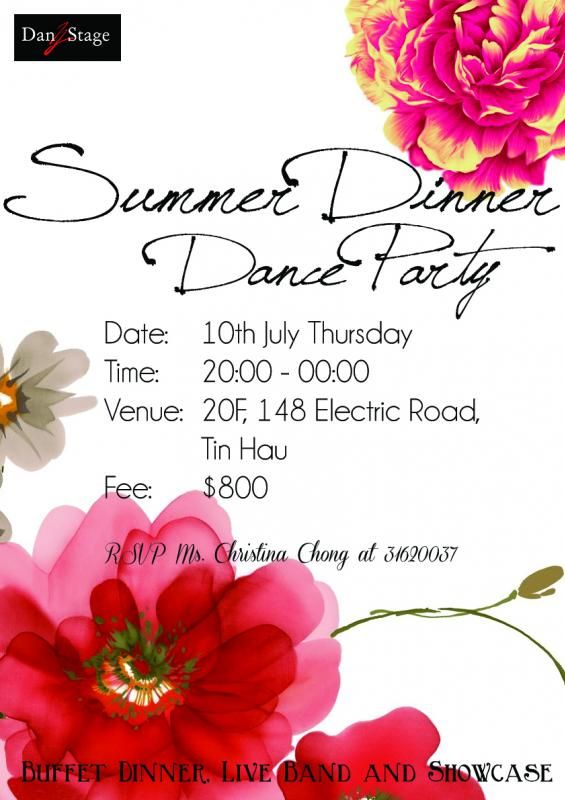 UPCOMING CLASSES
5th Anniversary Gala Dinner
Matching Making Project
Welcome for Children's Party
*For children under 13
Notice of Price Increase – Effective October 1, 2013
Effective October 1, 2013, new tuition fee for group classes as follow :
Ballroom (Monday, 8:30pm-10:30pm)
$850/package of 5 lessons
$220 for one trial lesson
Latin (Friday, 7:30pm-8:30pm)
$600/package of 5 lessons
$150 for one trial lesson
Ballroom (Friday, 8:30pm-9:30pm)
$600/package of 5 lessons
$150 for one trial less
Summer Wind Dance Party with Dima & Georgette!
It's gonna be a fun night. Come and join us!
Qi Gong coming to DanzStage
Do you find yourself distracted, drained of energy, feeling sick or feeling any other negative health related symptoms? If so these are only a few of the many reasons you should learn QiGong. This traditional chinese practice is a practice of aligning breath, movement, and awareness for exercise, healing and meditation. Learn to bring out your human potential. For more information please contact Christina at 3162-0037.


Summer Kids Hip Hop
Still not too late to get your kids involved in some summer activities here at DanzStage. We have two new preteen HipHop classes available for this summer for your kids to let loose and learn some cool dance moves. For registration or more information please call Christina at 3162-0037. See below for more infomation. For chinese version of the flyer please click here.


Bulent Karabagli Intermediate and Advanced Argentine Tango Classes
Intermediate B Time: 8:45pm - 10:15pm Thursdays
Advanced A Time: 3:45pm - 5:15pm Sundays
Advanced B Time: 1:00pm - 2:30pm Sundays (starting 5th of February)

Click Flyers below to see more information:


Practilonga coming up on January 27, 2012
Dear Tango friends, come join the tango music journey of DJ Bulent with 80% Traditional music and 20% Alternative tandas spicing up the night til 2am! $80 only with snacks and drinks in one of th most beautiful dancefloor! See details in below:

Practilonga
Date" Friday January 27, 2012
Time: 9:30pm til 2:00am


DanzStage 2nd Anniversary Milonga
With all the events happening in December the last thing we are thinking of is another party! But this is not just any ordinary party, you're not going to want to miss this Milonga Hosted by Bulent and KaMong here at DanzStage. Beautiful music, scrumptious snacks, and amazing performances for you to enjoy! Check out our facebook events page for this Milonga by clicking here.


Updated: Dec 26, 2011
Argentine Tango with Bulent Karabagli
Our good friend and amazing tango master Bulent Karabagli is back in Hong Kong by popular demand and will be conducting classes here at danzstage. We will be offering classes for all levels. See schedule below or call Christina directly at 31620037 for more information.
Updated: Dec 1, 2011
FloorPlay5 - Dance Social
We will be holding our Halloween themed FloorPlay Event! This time we'll have special performances as well! You can bring a partner, bring your friends or come by yourself. We'll be playing the latest traditional and non-traditional dance music for your listening and dancing pleasures. For more information please contact Christina at 3162.0037.


Updated Sept 30th, 2011
Back by popular demand, kidz hip hop class.
If you missed out last time signing up your kids for the Kidz Hip Hop, don't worry! There's still a few more weeks before the summer ends and your kids have to get back to school. Our Kidz Hip Hop taught by Lorraine will be continuing for the duration of August. See the flyer below for more information.


New Club Dance Series Starting Wed July 27th.
Don't miss out on this exciting new series of dances. Salsa we all know and love, but new to Hong Kong is the Hustle and Westcoast Swing. Be the first to learn these exciting new Club style dances and show your friends how it's really done!




Updated: Wednesday, July 20, 2011
New Courses Starting in July
We would like to extend a warm welcome to three of our newest teachers Kamong & Edith, and Lorraine. There will be 2 new classes starting in July. Click flyers below for more information, If you have any questions feel free to call us at 3162-0037.
Speed Dance & Social


You've heard of Speed Dating, so you're probably wondering what the heck Speed Dance is? In short, we offer a class that teaches you 4 dances in 1 hour. Then we hold a Social Practice Party afterwards and send you off to socialize and dance with others people whom you may or may not know. Sound scary? It's not! It's great fun!! You'll have to see it to beleive it. Don't miss out on this event. No dance experience neccessary!! Bring friends, girlfriends (they'll love this), boyfriends (they will not love this, but still love you afterwards), family, friends of friends, who ever you can think of!

Date & Time:
Saturday, May 28th, 2011
Introductory Dance Class starts at 8:00pm till 9:00pm
Social Practice Party at 9:00pm till 12:00am

Cost:
$80 for both the introductory dance class and the social
$70 for Social ONLY

For more information or would like RSVP today for the event, please click here on our Facebook Event Page.

To see more details click the flyer image below.




Updated: Friday, May 20, 2011
FloorPlay2 - Dance Social
Back by popular demand. We will be holding our second FloorPlay Event! More social icebreakers, games and line dances. You can bring a partner, bring your friends or come by yourself. We'll be playing the latest traditional and non-traditional dance music for your listening anddancing pleasures. For more information please contact us at 3162.0037.
Updated:May 8th, 2011
FloorPlay - Dance Social
Looking for a some action at night? Why not join us for some floorplay. Bring a partner, bring your friends or come by yourself. The first dance social of it's kind in Hong Kong. We'll be playing the latest traditional and non-traditional dance music for your listening and dancing pleasures. For more information please contact us at 3162.0037.




Updated:April 11, 2011
Alternative Milonga
Don't forget to mark down your calanders for this milonga. The first of it's kinda in Hong Kong. 50% Alternative and 50% Traditional music will be played. For more information please contact us at 3162.0037. 

Milonga's Coming Up
Argentine Tango Workshop
Don't miss highly accredited teacher Bulent Karabagli for the first time in Hong Kong. He will be conducting 28 classes between March 18th till April 11th.  For more schedule, forms and other information please click here. To download schedule and form click here.


Intensive Beginner's Argnetine Tango Course Taught by Visiting Guest Teacher
You are in luck! Visiting guest teacher Bulent Karabagli will be conducting an intesive Twice-a-week(Wed & Sun), 4 week beginners class. There's nothing more inportant than starting off on the right foot and you can do it here at DanzStage March 13 till April 6th, 2011. See Below for more details. Click here to visit our argentine tango page If you would like to register for this class please click here for registration.




Updated: February 28, 2011
New Dances, New Classes, New Offers
We have introduced some new dances to the studio including: Funky Dance and Rueda (Miami Style Salsa) If you've never seen before, your gotta bring yourself in and check it out. For our latest schedule click below to download.
CLICK BELOW FOR VIEWABLE FLYER
Oct_Nov_Flyer.jpg
Corazon Tango - 9, 16 & 23 Oct 2010
Tanguero's and Tanguera's, get ready to hear the music and dance your heart, join Coleman and Kamong on Saturday's for a special Milonga here at DanzStage. See flyer below for more information.




Updated: Oct 6, 2010
Sizzling Hot Summer Classes for all ages
Haven't started on your summer slim down yet? No problem, we have some new classes starting end of June and beginning of July that are perfect for all ages!
Sizzling Hot Salsa - Starting Friday June 25th from 6:30 - 7:30 (started)
Pumped up Hip Hop - Starting Thursday July 1st from 6:00 - 7:00
Fun and Fitness with good old Twist and A-Go-Go - Starting Friday July 2nd from 7:45 - 8:45
Calming and Relaxing Hatha Yoga - Starting Tuesday July 13th from 7:30 - 8:30


For more classes check out our schedule here. Or if you have any questions, call us directly at 3162.0037.

Updated: June 15, 2010
Class Schedule fixed
Google calendars has been giving us  a trouble with the language when it displayed on our website where it would default to Chinese language on the day headings. But that's all been sorted out, you can go check out our fixed class schedule page now.

Updated: May 29, 2010
After a long awaited arrival, we've managed to get ourselves off the dance floor to bring you this website. Be sure to take a look and give us some feedback. If you would like to contact us, click here.

Updated: May 17, 2010